A DREAM COMES TRUE
Let's Plan Your Trip
With Luxury Uganda Safaris
A Magical Experience
Best Gorilla Trekking Packages
Let's Plan Your Trip
Travel Like A Pro


As You Watch Wildlife in Uganda
Let's Plan Your Trip
Exclusive Safari Experiences

Luxury Honeymoon Get Aways
Let's Plan Your Trip
Let's Plan Your Trip
Let's Bring Your Imaginations To Reality
Luxury Gorilla Trekking Safaris-Uganda Gorilla Tours 2023 – 2024
Luxury Gorilla Trekking Safaris in Uganda are the most prominent Gorilla Safari tours at various Uganda Gorilla Safari Destinations i.e. Bwindi Forest National Park and Mgahinga Gorilla National Park.
The Luxury Uganda Gorilla Safaris offer you remarkable Luxury Gorilla Trekking Safaris as you watch the Gorillas interact with their natural forest vegetation habitat.
Luxury Uganda Gorilla Trekking Process in the Various Destinations
Luxury Uganda Gorilla Trekking Process starts with transferring to the headquarters to be briefed about the Dos and Don'ts around the Mountain Gorillas in their natural vegetation habitat.
Later, you are distributed into groups of 8 to track a certain Gorilla Group/ family and after transfer into the green forest vegetation with a skilled ranger guide to tracking the Gorillas for a period of 3-5 hours. When you meet them only an hour is allowed to stay in their presence taking photos to keep for memories.
Gorilla Trekking Destinations in Uganda
Luxury Uganda Gorilla Safaris are a very special Safari Adventure to carry out while on a Uganda Safari with friends and family as this offers you an opportunity to watch the Gorillas.
The Luxury Uganda Gorilla Trekking Safari Destinations include; Bwindi Forest National Park and Mgahinga National Park which inhabit the rare species of Mountain Gorillas that are fond of living in groups with a dominant Silverback leading the Group.
Cost of Gorilla Trekking Permits in Uganda
As you planning to transfer to Uganda to experience your luxury Uganda Gorilla Safaris, ensure to carry a valid Gorilla Trekking Permit that costs US $700 per person. These are obtained by contacting the Uganda Wildlife Authority or a valid Tour Operator Agency.
Best Time To Go on a Luxury Uganda Gorilla Safari
Planning to transfer for a Luxury Uganda Gorilla Safaris in Uganda, we recommend you travel during the dry season when the paths are navigable and the photography is very clear.
This is during the months of mid-May to September and February whereas during the rainy season tracking the Mountain Gorillas is challenging since the paths are slippery and photography is not easy due to the overgrown bushes.
5 Days Rwanda-Uganda Trek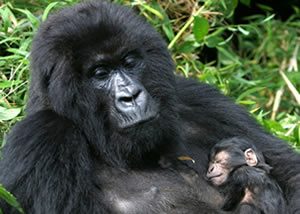 Looking for an exceptional Gorilla trekking adventure while on holiday safaris in Rwanda & Uganda? Book the 5 Days Rwanda & Uganda Gorilla Trek to enjoy the best.
5 Days Gorillas & Wildlife
Enjoy your holiday safari adventure in Uganda by taking on the 5 Days Gorilla and wildlife safari in the various safari destinations to encounter remarkable experiences.
6 Days Uganda Primate Safari
Take on the 6 Days Uganda Primate Safaris to spot, encounter and experience the unique primates of Uganda in Kibale Forest, Ngamba Island for the best adventures.
10 Days Uganda Gorilla Safari
Enjoy the 10 Days Uganda Gorilla Safari to experience the best Gorilla safari encounters on holiday adventure vacation at Bwindi Forest & Mgahinga NP.
15 Days Uganda Gorilla Safari
Enjoy the 15 Days Uganda Gorilla Safari while on Gorilla Safari holiday in Uganda to enjoy the best Gorilla Safaris Tours. Book with Us a trip for beautiful encounters.
17 Days Uganda Gorilla Safari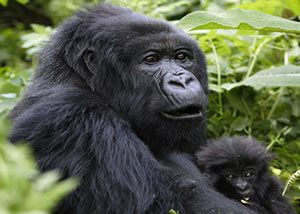 Enjoy the 17 Days Uganda Gorilla safari so as to get remarkable experiences while with the unique species of Mountain Gorilla in Bwindi and Mgahinga N Parks.