Uganda Flying Safaris 2021/22: Exclusive Fly In Safari
Enjoy Exclusive Fly In Safari, Luxury Uganda Flying Safaris 2021/22 to Uganda's National Parks by Air on tailormade Luxury Holiday.
Uganda Flying Safaris are the ideal deal for travelers looking to adventure and explore Uganda on a Luxury Uganda Safari holiday in Style with friends and family.
The relevance of a Uganda Fly-in Safari Tour does not only lie in the flexibility of transferring from the crowdy, busy City of Kampala to the center of the stunning Savannah vegetation habitat to watch Wildlife but instead to travel vibrantly in style with comfort to any safari destination of your choice.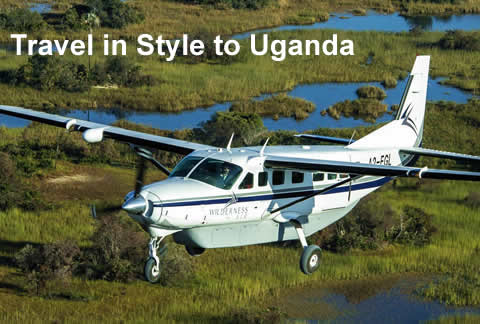 The Flying Safaris in Uganda offer travelers an opportunity to watch Wildlife from from above an Adventure that is so exclusive and interesting as you take numerous photos of the scenic Savannah with its various Wildlife animals.
On a Flying Uganda Safari, various Flight companies are available to offer you Domestic Flights to transfer you to the Safari Destination of your choice and the Most prominently used in Uganda is Aero Link Uganda. The Flight company has exclusive travel experts including pilots, customer care personnel who offer you remarkable options to fly to thee safari destination of your choice.
Tour Ideas to get you dreaming on your Fly In Uganda Safaris
Our Fly In Uganda Safari Tours showcasing the best of Fly-in Safaris on Holiday
Other Exclusive Holiday Ideas to Enjoy with Friends and Family